Since at least the 1950s military dentists have been using a pictorial system to record the condition of their patients' teeth.
The image below is the result of the dental examination made by Dr. J. Andrew Harris on 1Lt George W. Bush on January 6, 1973 in Alabama: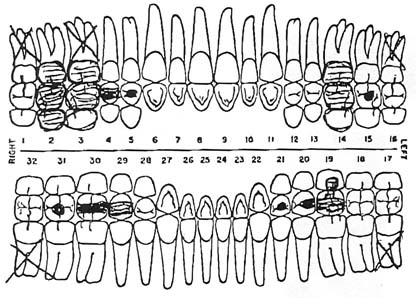 Dr. Dwight Carvalho graciously provides the following explanation of the notations made for Bush's upper teeth: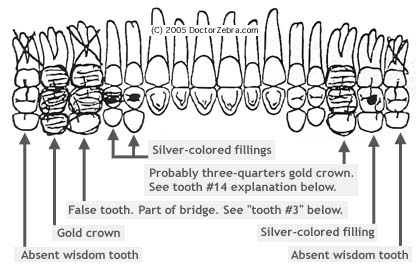 Tooth #3 is missing, but the space is filled by a gold-alloy false tooth welded to adjacent teeth and suspended above the gum tissue. Thus, teeth #2, #3, and #4 most likely constitute a fixed partial denture, i.e. a bridge. In more technical terms, tooth #3 is a pontic welded to the interproximal contacts of teeth #2 and #4.
Tooth #14 is probably a three-quarters crown, of gold alloy. It may be an on-lay or large amalgam restoration. It is documented by Dr. Harris as if it were a crown.
The state of the lower teeth is shown in this image: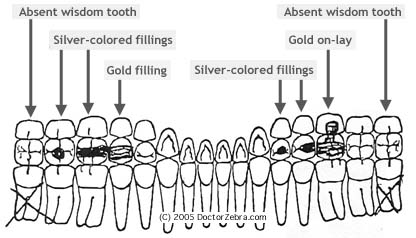 Although this may seem like a great deal of dental work to find in the mouth of a 26 year old, both Dr. Harris 1 and Dr. Carvalho state there is nothing unusual about these results.
---
For our sight-impaired readers, here is the text of the annotations made above:
Upper Dentition, right-to-left

Tooth #1 - Absent wisdom tooth
Tooth #2 - Gold crown
Tooth #3 - Artificial tooth, part of a bridge. See above.
Tooth #4 - Silver-colored filling
Tooth #5 - Silver-colored filling
Tooth #6 - Normal
Tooth #7 - Normal
Tooth #8 - Normal
Tooth #9 - Normal
Tooth #10 - Normal
Tooth #11 - Normal
Tooth #12 - Normal
Tooth #13 - Normal
Tooth #14 - Probably a three-quarters gold crown. See above.
Tooth #15 - Silver-colored filling
Tooth #16 - Absent wisdom tooth

Lower Dentition, left-to-right

Tooth #17 - Absent wisdom tooth
Tooth #18 - Normal
Tooth #19 - Gold on-lay
Tooth #20 - Silver-colored filling
Tooth #21 - Silver-colored filling
Tooth #22 - Normal
Tooth #23 - Normal
Tooth #24 - Normal
Tooth #25 - Normal
Tooth #26 - Normal
Tooth #27 - Normal
Tooth #28 - Normal
Tooth #29 - Gold filling
Tooth #30 - Silver-colored filling
Tooth #31 - Silver-colored filling
Tooth #32 - Absent wisdom tooth