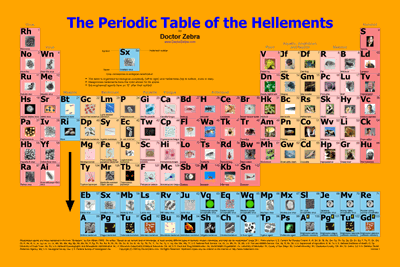 The Periodic Table of the HellementsTM presents, in bright cheery colors, 112 living things just waiting to cause you hell.

From the common cold virus to Ebola, from fleas to grizzly bears, each hellement is illustrated and named.

And, of course, each hellement has its own symbol!

Humans can be hellements, too (duh!), so we offer four different Periodic Tables:
Conservative
Liberal
Misanthropic
Politically Correct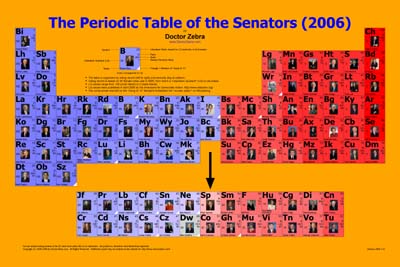 The Periodic Table of the SenatorsTM brings order to the greatest deliberative body in the world (their description, not mine).

Using the 2006 liberalism rankings from Americans for Democratic Action, the 100 senators of the 109th Congress are arranged horizontally by redness and blueness (and shades thereof), and vertically by seniority.

And that's only the beginning!

For all dual chemical-political wonks, this is a must have! Mere political enthusiasts will love it, too!

The 2005 table is still available, so you can compare and contrast.