Dumb Flight Surgeon Tricks
As far as most astronauts are concerned, the only person more loathsome than a flight surgeon is a psychologist.

-- 1a

[Aviation psychologists] were regarded as the modern and unusually bat-brained version of the chaplain.

-- 2a

"Son, you gotta understand, the crews won't be happy until the last psychologist has been strangled on the entrails of the last flight surgeon."

-- astronaut Joseph Kerwin, MD
(quoted in: 1a)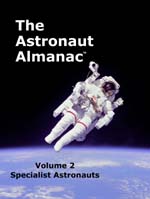 What is a flight surgeon?
A flight surgeon is a physician whose patients are pilots, astronauts, or others who fly. We restrict our discussion to the flight surgeons associated with the manned space program.

(Note: The word "surgeon" is, in this sense, a synonym for "doctor" -- it has nothing to do with operating rooms and scalpels. It's similar to the phrase "surgeon general.")
What is a "dumb flight surgeon trick?"
In the early days of the manned space program, the flight surgeons and other life scientists had many concerns about the ability of humans to function in outer space. Today, these concerns seem outlandish, quaint, and silly.
Why have a web page for dumb flight surgeon tricks?
It takes a long time to recover from a bad start. Today, NASA's flight medicine community is still driven by unreasonable fears -- a legacy it inherited from its founders.

Space travel is not that physically demanding. When Deke Slayton returned from his Apollo earth-orbit flight, he observed that during the flight "I really wasn't doing anything my ninety-one-year-old Aunt Sadie couldn't have done" 3a.

Yet, the NASA medical community continues to apply unreasonable medical standards to those seeking careers as astronauts. (The Russians are even worse.) Some of the younger physicians are trying to change things, but the lock at the top will not soon loosen.
Dumb Flight Surgeon Tricks
Here is Wally Schirra's opinion of the medical examinations to which astronaut hopefuls were subjected before the Mercury program 4a:

I still feel that the physical exams at Lovelace were an embarrassment, a degrading experience. I have said many times -- and meant it -- that it was a case of sick doctors working on well patients. I make the point in talks to medical associations. It was a rare, almost unheard of situation in which so many healthy individuals submitted to an array of tortures -- proctoscopies, barium-enhanced X-rays, psychological interrogation and so on.

The doctors at Lovelace were trying to establish a physiological and psychological baseline to be used in tests during a space flight. That was a valid exercise, I would admit. It might even have amounted to justification for our agony except for one thing -- it didn't work. According to Colonel William K. "Bill" Douglas, our family doctor in Mercury and our close friend, the punch-card computerized data obtained at the Lovelace Clinic could not be interpreted. The tests had to be redone after those of us who were selected joined the program. Much as I'd rather not knock a dead man, Randy Lovelace did a lousy job.

Doctors worried that humans might not be able to drink fluids in weightlessness. Schirra countered that in 1948 he had seen Commander Armistead Smith drink a martini while standing on his head at the Quonset Point Officers Club, proving that humans could successfully take fluids at minus-one G, a more demanding task than drinking at zero-G 4b

[This is reminiscent of Richard P. Feynman proving to his fraternity brothers that "urine does not run out of you just by gravity" by urinating while standing on his head. Source: "Surely You're Joking, Mr. Feynman!" Toronto: Bantam, 1986. 322 pp. ISBN 0-553-25649-1. Page 39.]

On the day before Cooper's Faith 7 launch, the medical people cut a hole into his spacesuit to install fitting for sphygmomanometer. This violated a mission rule, and Cooper blew his top. As a result, he was almost pulled from the flight. 5a

"Some of the medical people weren't even sure if a prolonged sleep would be possible in space. They also weren't sure a man could sleep in space, then wake up and get his senses back in order to pick up where he left off." 5b

Apollo 7 was going to be the first spaceflight after the disastrous Apollo 1 fire that had killed Grissom, White, and Chaffee. In order to decrease the risk of fire, mission planners wanted the Apollo 7 crew to shave all the hair from their bodies. Mission commander Wally Schirra responded "I argued that the hair would grow back in the course of the [11-day] mission, and the new hair would be just as flammable as what had been shaved off. I also intimated that if the danger was such that hair was a hazard, then maybe I'd rather not fly the machine at all. The powers that be relented." 4c

Flight surgeons and mission planners attempted to ban coffee from Apollo 7 4d. It's not clear from Schirra's description whether this was to be a one-flight arrangement or a permanent change in protocol.

Dr. Harry Armstrong (? Hubertus Strughold) opined that, before sending humans to Mars, they should probably have their appendix and gallbladder removed. [JAMA, circa 1966]. [This seems unusually bat-brained, even for a flight surgeon. Post-surgical adhesions probably confer a risk as high, perhaps higher, than the disorders the surgery would putatively prevent!]

The medical people came up with the idea of choosing first astronauts from any of several professions 3b.

"Before the first manned orbital flights, many predictions were made concerning the possible adverse effects of space flight. Since weightlessness was the one unknown factor that could not be duplicated exactly in a laboratory situation on the ground, some effect on almost every body system was predicted. These were anticipated on the basis of known influences of gravity on certain body systems, on the knowledge of effects of disease phenomena, and within the context of ground-based research and clinical observation. Vestibular and proprioceptive disturbances were anticipated not only on a theoretical basis, but also as a result of the reported appearance of symptoms in the case of Major Gherman Titov, the Russian Cosmonaut, during his 17.5 orbit flight in 1961. Since the cardiovascular system is markedly influenced by gravity, disturbances in the weightless condition were expected. On the basis of ground-based research in sensory deprivation, there was some expectation of hallucinations. The possibility of impairment of crew performance due to disturbance of circadian rhythm was also considered. None of these was significant in Mercury." -- Air Force pamphlet 161-18, "Flight Surgeon's Guide" (December 1968), page 25-9.

"In May of 1963, it was predicted that man could live and work in space for at least four days, as long as adequate life support was provided." -- Air Force pamphlet 161-18 (December 1968), page 25-12. [This was not a very bold prediction. Cosmonaut Andrian Nikolayev completed a 94.4 hour mission aboard Vostok 3 on Aug. 15, 1962.]

Medical consultants made operational, not medical, judgments. Paul Dudley White, the Harvard cardiologist, evaluated Slayton's case of atrial fibrillation and recommended: "If you've got astronauts without it, fly them" 3c. That was not the question that White should have answered. He was being consulted to see if Slayton was fit to fly or not.

(Interestingly, White had previously consulted for the government. He evaluated President Eisenhower after Ike's heart attack. White privately advised him not to run for a second term, but Eisenhower did not follow this advice. Ike won re-election, and died eight years and many golf games after leaving office.)

More to come.
Cited Sources
Burrough, Bryan. Dragonfly. New York: HarperCollins, 1998.

| | | |
| --- | --- | --- |
| | | |

Wolfe, Tom. The Right Stuff. New York: Farrar Straus Giroux, 1979.

| | | |
| --- | --- | --- |
| | | |

Slayton, Donald K. Deke!: U.S. Manned Space Flight from Mercury to the Shuttle. New York: Forge: St Martin's Press, 1994.

a

p.304

b

p.68

c

pp.112, 115

Schirra, Walter M. Schirra's Space. Annapolis, MD: Naval Institute Press, 1988.

a

p.60

b

p.23

c

p.192

d

pp.192-193

Cooper, L. Gordon. Leap of Faith. New York: HarperCollins, 2000.

| | | |
| --- | --- | --- |
| | | |